26.12.2022. The Belgrade Centre of Human Rights (BCHR) has been traditionally organising year-end events of relevance to the integration of refugees in Serbia since 2016.  This year's event provided an opportunity to launch a discussion on issues of refugee integration in the Republic of Serbia, share experiences and successful practices and map the current problems in this area. After two years of online and hybrid events, we were extremely pleased to go back to our traditional live event, held in Aero Club on 21 December, attended by over 50 participants.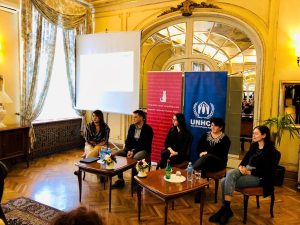 The event was opened by UNHCR Representative ad interim in Serbia Ms. Stefanie Krause and BCHR Director Sonja Tošković.
The following professionals discussed refugee experiences of access to high education in the Republic of Serbia during the first session: Ivana Jelić and Aleksandra Kosović of the UNHCR Office in Belgrade, Rada Baošić, the Vice-Dean for Teaching at the Belgrade University College of Chemistry, and Kathia Katihabwa Irakoze, a sophomore of that college and years-long BCHR client who has been granted asylum. The panel discussion was moderated by BCHR Integration Adviser Andrijana Miljković. In their extremely inspiring discussion, the panellists shared their experiences in working with refugees, extending them support in accessing high education, from Serbian language courses, preparations for the admission exams, legal aid during the integration process, validation of school certificates before the Qualifications Agency ENIC NARIC Centre, enrolment in college to the DAFI scholarships refugee students in Serbia have been granted with UNHCR's support. Kathia Katihabwa Irakoze shared her experience of attending college in the Republic of Serbia and encouraged other refugees to start or continue their tertiary education in Serbia.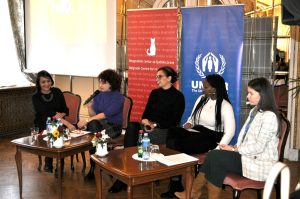 The second session was devoted to the importance of corporate social responsibility and social entrepreneurship for opening new jobs and creating better opportunities for the economic empowerment and independence of refugees. Refugees can substantially contribute to the country's development by investing their knowledge, social capital and funds. In addition to pursuing socially responsible goals, businesses can achieve the most direct positive effects by employing refugees, if there is clear economic will and an economic goal, an issue that is rarely discussed. Tripartite cooperation of the relevant authorities, the private sector and civil society organisations is crucial in this process.  In BCHR's experience, employers lack primarily legal information about which categories of foreigners, specifically refugees, are entitled to access the labour market and under which terms.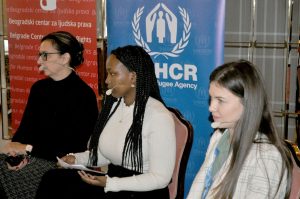 Experience on this issue was shared by Dušan Lopušina of the UNHCR Integration Team, Katarina Ejdus, the founder of the social enterprise Women on the Way that has been empowering refugee women engaged in the design of sustainable fashion and Kristina Tomić, a representative of IKEA Serbia, which has been employing refugees and asylum seekers in Serbia through its  global internship programme. Sharing her life's story, BCHR's client from Ukraine Elvira Kerekeš, who has been employed in the social enterprise Women on the Way, spoke about the importance of economically empowering women, the support she has been extended and how much it meant to her to continue working and be an equal member of society after fleeing conflict. The panel was moderated by BCHR Integration Team Coordinator Jelena Ilić.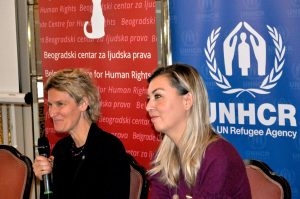 The final integration-related event was an opportunity to discuss opportunities for jointly improving practices in these areas and the steps we could take together. We, above all, wanted to help improve the lives of people we have been working with by facilitating concerted advocacy and dialogue of all stakeholders.