25.11.2022.In response to a complaint filed by the Belgrade Centre of Human Rights, the Commissioner for the Protection of Equality issued an opinion finding the Belgrade-based Youth Cooperative Bulevar in violation of Article 8 in conjunction with Article 16 of the Serbian Anti-Discrimination Act, because it refused to accept as its member a minor granted subsidiary protection[1] or the status of a refugee in Serbia. The Commissioner said that this youth cooperative unjustifiably placed the minor in an unequal position because of his personal characteristic – status of a person granted refuge or subsidiary protection.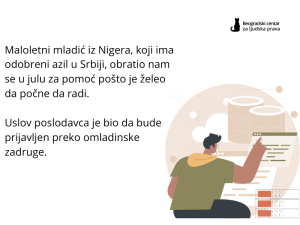 The minor at issue, a national of Niger, who has been granted asylum in Serbia, and his guardian asked the BCHR for assistance in July. He had been looking for a job and his prospective employer wanted to hire him via a youth cooperative. The BCHR team contacted several youth cooperatives, explained the minor's legal status and submitted the documentation clarifying his legal status. All youth cooperatives declined to register the minor as a member under the explanation that he was under age and did not go to school. The Bulevar Youth Cooperative went a step further, replying "We do not accept as members or employ asylum-seekers", whereby it directly discriminated against the minor. Such treatment is deeply discriminatory against refugees i.e. people granted asylum. Not only did Bulevar reveal its lack of good will to facilitate the integration of an individual lawfully residing in the Republic of Serbia; it also called him an asylum-seeker, a term that is both pejorative in the Serbian vernacular and legally inaccurate.
In her Opinion, the Commissioner for the Protection of Equality said that Bulevar had failed to present either facts or evidence showing that there were justified reasons for the unequal treatment of the underage complainant, I.C.A. from Niger, compared with other individuals and that the cooperative automatically refused to review his membership application exclusively because of his status.
The Commissioner recommended that Bulevar re-examine the complainant's membership application and, if it suffered from any formal deficiencies, instruct him how to fulfil the formal membership requirements, whilst ensuring that it treated him as it did Serbian nationals and by applying an inclusive approach. She also recommended that Bulevar not violate anti-discrimination law in the future.
Unfortunately, Bulevar's conduct is not an isolated case. To recall, the Commissioner for the Protection of Equality conducted several procedures in 2021 and found that banks in Serbia discriminated against refugees and asylum seekers when they refused to open bank accounts for them. The results of the Commissioner's 2019 survey of public views on discrimination in Serbia show that citizens of Serbia feel the greatest social distance towards migrants and asylum seekers.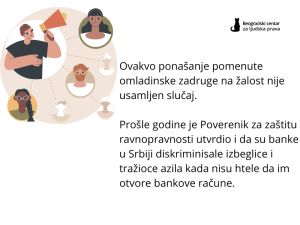 The BCHR welcomes the Commissioner's action on the complaint and calls on youth cooperatives, given their importance in helping young people find jobs, to review each individual membership application in all similar situations in the future, without making blanket and discriminatory assessments.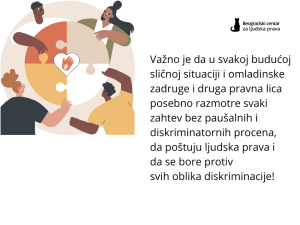 [1] Under Article 25 of the Asylum and Temporary Protection Act, subsidiary protection shall be granted to applicants not meeting the asylum requirements referred to in Article 21 of this law if there are justified reasons indicating that they would face a real risk of serious harm if returned to their country of origin or habitual residence, and who are unable, or, owing to such risk, unwilling to avail themselves of the protection of that country. Serious harm entails the threat of death by penalty or execution, torture, inhuman or degrading treatment or punishment, as well as a serious and individual threat to the life due to arbitrary generalised violence in situations of international or internal armed conflicts.