14.2.2022. Within its Refugees for Refugees project activity, the Belgrade Centre for Human Rights (BCHR) integration team on 7 April 2022 organised the first session devoted to the entrepreneurial experiences of refugees in Serbia.
The session, which was opened and facilitated by BCHR's Integration Specialist Nina Miholjčić, aimed to bring together refugees with substantial entrepreneurial experience and refugees interested in launching their own business in Serbia. Entrepreneurs with refugee experience shared their experiences in launching and operating their businesses, but also talked about the problems and obstacles they faced as entrepreneurs.
During the first part of the event, refugees from Iraq and Iran with experience in launching and opening a business spoke about the problems and challenges they had faced. The session participants had the opportunity to ask questions during the panel discussion. Our interlocutors gave them tips on how to deal with various issues they would face from the start – from choosing an accountant and opening a bank account to the registration of their legal entity in the Business Registers Agency.
After the interlocutors reflected on their experiences and future growth and development plans, BCHR's Senior Integration Specialist Jelena Ilić explained in greater detail the main concepts of the legal and tax-related aspects of launching a business.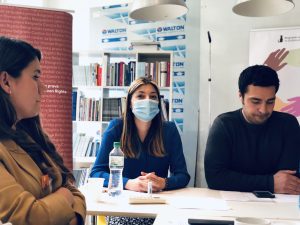 The event was attended both by refugees and asylum seekers planning on launching a business in Serbia and representatives of the UNHCR Office in Belgrade and our colleagues, legal representatives. The event ended with the sharing of experiences and the participants' direct questions to refugee entrepreneurs about the problems they are facing and how they can solve them. The event was an introduction to future cooperation and created the opportunity to continue advocacy efforts on the topic of entrepreneurship.