17 October 2022. The Belgrade Centre for Human Rights integration team on 13 October 2022 organised the second session of the series on the higher education of refugees in Serbia within the Refugees for Refugees activity.
The session was opened and moderated by BCHR's Integration Adviser Nina Miholjčić, who highlighted the importance of higher education and the major role it played in the successful integration of refugees. The session rallied refugees with college experience in Serbia, who were provided with the opportunity to share their experiences and challenges, as well as the upsides of pursuing their university education in Serbia.
The refugee students talked about their motives and what had prompted them to enrol in college. They also shared the challenges and obstacles they faced in validating the diplomas they had earned in their countries of origin and collecting the requisite admission documents.
The students described the challenges they had faced when they first started college, highlighting the importance of fluency in Serbian both for following class and keeping up with their studies and for communicating with student services and their fellow students.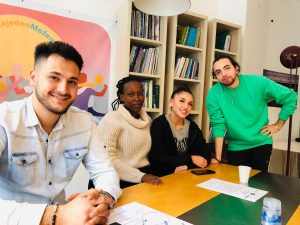 Statistical data show that only 5% of refugees go to college; this is far below the global average higher education enrolment among non-refugees, which stands at 40%. UNHCR and its partners are committed to the 15by30 target – ensuring that 15% of young refugee women and men can access higher education by 2030.[1]
The BCHR welcomes UNHCR efforts to increase the inclusiveness of the education system and supports refugees in their decision to pursue their university education in Serbia.
The session is part of the Support to Refugees and Asylum Seekers in Serbia project, implemented by the BCHR with the support of UNHCR in Serbia.
[1] UN Refugee Agency. "Tertiary Education." The UN Refugee Agency, UNHCR, 2019, https://www.unhcr.org/tertiary-education.html. Accessed 14 Oct. 2022.